Drawing 2016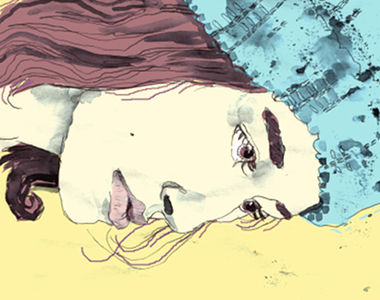 Test of a new technique: dry pastel.
Two drawings made after photographs. The first is a gift for a friend and his wife.
The rest are observation sketches.
Drawing 2016

Aline had an important meeting this afternoon, that she shouldn't miss in any circumstances. This painting was made by my desire to return to gouache.
Having no experience in the Character design area, my idea was to draw random views of imaginary people.
The following roughs have often been drawn in the public transports.
Drawing 2016
For the realization of my first
Inktober
, my allies were the usual tools: the ballpoint pen, watercolor and correction fluid.
By luck, my last drawing is also the one I prefer (the child and her pet). Effectively, I came up with a strategy to minimize the
"bored time"
. This expression starts from the observation that the creation of a drawing is a long and laborious process, the illustrator will therefore inevitably get bored: not good for the result.
In order to
reduce
it, my plan was to do all the steps at the same time: light sketch, watercolor, ballpoint pen, without any time limit and no particular order. I was certainely shy on the application of this idea, but its setup pleases me for the future :)
Drawing 2016
(Needs translation)

Quelques dessins au stylo à bille inspirés de peintures du 19e. Les couleurs sont posées avec Gimp.
"L'attrapade" de Félicien Rops.
"Le printemps" de Édouard Manet.
"L'absinthe" de Edgard Degas.
"Baigneuse au bord du ruisseau" de Gustave Courbet.

Drawing 2016
Drawing 2016